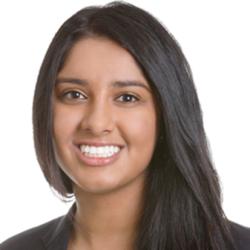 Bachelor of Actuarial Studies and Bachelor of Finance (2017)
Shonal is a Manager in Ernst & Young (EY) Canberra's Actuarial Services team, where she applies quantitative analysis to inform decision-making. Her sector focus is health and aged care, and she is involved in forecasting demand for aged care services, analysing funding models, scoping future health system designs and validating health insurance models. Prior to commencing as an Actuarial Consultant in 2018, Shonal accumulated experience with EY through the Career Compass Program, Vacationer Program (Sydney) and an internship (Canberra). Before joining EY, she interned at Quantium and worked as a CBE Student Administrative Assistant, CBE Student Ambassador and Client Services Administrator at Super Wealth Advisors.

During her studies at CBE, Shonal undertook multiple extra-curricular and leadership roles, including Co-Founding and acting as the Corporate Relations Director of the ANU Actuarial Society, and as Vice-President and Secretary of the ANU Tennis Club and 180 Degrees Consulting.
22 SEPTEMBER 2021
How do you describe the working environment at EY?
EY has provided me the opportunity to accumulate skills and experience through addressing some of the most pressing issues affecting state and federal governments. I am fortunate to work with intelligent and supportive colleagues who have actively invested in my professional development and career progression. EY has supported me with flexible working arrangements, generous study allowances and opportunities to travel for work. Whilst I have developed a sector focus in health and aged care, EY continues to provide diverse experiences that enable me to work on engagements across education, child protection, disability, social services, insurance and banking.
What is a typical day in the life of an Actuarial Manager like?
With the complexity of the work and continually changing environment, there is very little in actuarial consulting that stays the same for long. My typical day could involve a combination of:
conducting or reviewing data analyses, projections or reports across one or more engagements
communicating outputs with clients that may involve translating complex actuarial concepts into actionable insights 
contributing to business development through supporting proposals, internal projects or recruitment processes
providing guidance to junior team members and receiving mentoring from senior team members
formal training courses or learning opportunities through presentations and workshops
social interactions with colleagues and clients.  
How are you developing your managerial skills?
My managerial skills have primarily been developed through on-the-job learning and insights from experienced managers. I will also have the opportunity to attend EY's New Manager Camp in October, which will provide a week of formalised training and networking opportunities with my peers across the Oceania region.