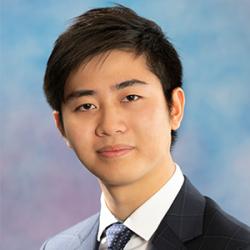 Bachelor of Business Administration (2017), Bachelor of Accounting (with First Class Honours) (2018)
Jeff is a Senior Consultant at BellchambersBarrett, a Canberra-based professional services firm. He works in both internal and external auditing for clients ranging from local not-for-profit organisations to the Commonwealth Government. During his time at CBE, Jeff was a tutor and completed an internship at Dixon Advisory.
29 SEPTEMBER 2021
What does a typical day of senior consultant look like?
A senior consultant acts as a conduit between the Partners, Managers, consultants and the client. A typical day for me starts with me sitting down and figuring out what jobs need to be done, ensuring they are completed and looping in the concerned Partner or Manager. This process might also include guiding graduates and consultants or solving problems that come up, as well as reviewing the work completed so far. No two days are the same, as I often spend time across multiple clients and jobs, and addressing various client needs.
What can I do to be selected for interview?
Having assisted with the recruitment activities here at BellchambersBarrett, there are two things that really help candidates stand out:
Be proactive:  Firms are often looking for employees but might not be actively advertising these roles. Quite a few of my colleagues have joined the firm through what would be deemed non-traditional methods, including reaching out to the Partners through LinkedIn and sending through an expression of interest. This shows recruiters that you are taking initiative and are creating an opportunity, even though it might not present itself to you.
Be yourself: Don't be afraid to talk about your interests outside of work. A work life balance is important, and employers are interested to learn more about you outside of work, especially since they'll be looking for someone that fits into their culture.
 
Do you think internship experiences are important? What should students expect and have your experiences benefited  your career?
I have found internships to be important. Going into an internship, I would expect to be exposed to what working at the firm would be like on a day-to-day basis and doing the work you would as a graduate. A big part of an internship is discovering whether you enjoy what you are doing and if it is something you would like to pursue a career in, whilst also exploring the type of organisational culture that best suits you. My internships, including my CBE internship placement with Dixon Advisory, have played a major role in helping me decide on what I wanted in an employer and for my career when I graduated.