Image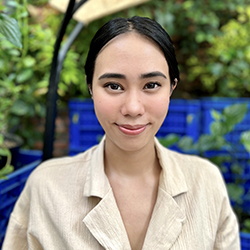 Bachelor of Arts (2011) and Master of Business (2013)
Dinar is the Learning and Development Program Lead at Shopee Indonesia – the leading e-commerce platform in Southeast Asia and Taiwan. Dinar's team works to design and deliver an effective end-to-end learning journey that equips Shopee employees with the skills and knowledge needed to help them succeed in Asia's e-commerce industry.

Before her current role, Dinar held positions within the Employee Experience and People Sciences team at Gojek, Indonesia's first super-app and decacorn (company valued over $10 billion). In Australia, she worked at Blended Learning International – a registered training organisation – where she focused on expanding e-learning pathways from Australia to Indonesia. She has over seven years of experience in various roles driving complex training and employee initiatives.

While completing her degrees at ANU, Dinar actively volunteered in various student and youth initiatives, including being a delegate for the 2009 British Council's Global Changemakers and the G20 Youth Summit, Vancouver. She also worked as a Research Assistant with CBE. 
19 April 2022
What are some key trends in talent development in the tech industry?
Trends include:
The need to have basic knowledge on how to make data-driven decisions and bring out insights through data storytelling. This is a consistent skill I've seen across the industry.
The ability to thrive in ambiguous and rapidly changing environments. The pandemic has provided the much-needed push for companies to evolve team collaboration, communication, and innovation. I believe that no one company has found the right approach yet, but flexibility will be crucial going forward.
Companies are making strides to steer away from delivering training for training's sake, to adopting a more strategic and needs based approach.
What's unique about the recruitment practices and processes for leading firms in Indonesia?
In my opinion, there is a thriving talent marketplace in Indonesia. We have seen a burst of talent along with the mushrooming of several tech unicorns (company valued over $1 billion) and decacorns within the region. However, in order to succeed, most companies adopt a hyper-local strategy – focusing on matters concerning their geographical area. Talent are expected to have a holistic understanding of the diversity of Indonesian consumers (with their varying purchasing power and tech savviness) while at the same time possessing world-class capabilities. 
How did you make the most of your international experience in Australia and elsewhere for your job applications in Indonesia?
Having experience in Australia was taken into high regard, as Australia is known for its quality education. ANU was excellent for honing my critical thinking and communication skills, which are sought-after in the Indonesian tech sector.