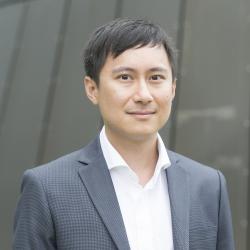 Image: University of Sydney
PhD in Economics 2018
Ben completed his PhD in Economics at the ANU College of Business and Economics in 2018, and is now Lecturer in Law (tenure track) at the University of Sydney. Ben also completed a JSD at Columbia University School of Law. His research interests include equity and trusts, contracts, game theory, and law and economics.
In his final year of undergraduate studies, Ben served as Tipstaff to Justice Geoff Lindsay of the NSW Supreme Court. He later worked as a judge's associate at the ACT Supreme Court (in 2013-14) and a sessional academic at the Australian National University (in 2014-16). While at Columbia, he worked as a researcher for Professor Elizabeth S Scott, the chief reporter for Restatement of Children and the Law.
Ben's responses to questions from CBE students
What was the main research area of your PhD thesis?
My PhD thesis developed contest theory (a branch of game theory) to capture behavioral biases and social preferences and then applied it to model civil litigation.
Why did you choose to work in academia over industry?
I enjoy research and value the freedom to follow my curiosity. I also prefer to set my own goals and work with like-minded individuals.
You completed a PhD in Economics with CBE, however, your current expertise is in the field of law. How did you find the PhD compliment your current academic field? Was there anything you wish you had known during your PhD now that you are working in academia?
Given my research in law focuses on Law and Economics, the knowledge and skills that I had acquired from the PhD in Economics have been extremely valuable. I was lucky enough to have a superb supervisory chair, Dr Jose Rodrigues-Neto, who encouraged me to study advanced quantitative courses offered by the CBE and by the Mathematical Sciences Institute. While I did not achieve stellar grades in some of those courses, I now have what it takes to apply sophisticated economic and mathematical tools to tackle legal problems.
I wish I had spent more time developing "science communication" skills during my PhD. Since I started working in academia, the biggest challenge has been convincing scholars and practitioners of the value of novel approaches to tackle familiar problems. The cost of learning is high, especially for busy readers. It is therefore important to persuade others that it's worthwhile to listen to and learn about what you have to say.
How do you manage your time when facing competing deadlines?
When facing competing deadlines, I tend to start with the easier and less timing-consuming tasks. That allows me to reduce the number of tasks and concentrate on finishing the harder ones. The idea is to reduce pressure, limit stress, and cultivate a belief that there is light at the end of the tunnel.
How did your experience working for the Supreme Court help your academic research? Do you think your thesis would have been the same had you not worked for the Supreme Court earlier in your career?
My PhD thesis would not have been the same had I not taken time off between undergraduate and postgraduate studies. Working for the NSW and ACT Supreme Courts had allowed me to engage with practitioners and understand the practical problems that they have to grapple with. That experience then enabled me to conduct research that could be useful for practitioners and generate impact.