Image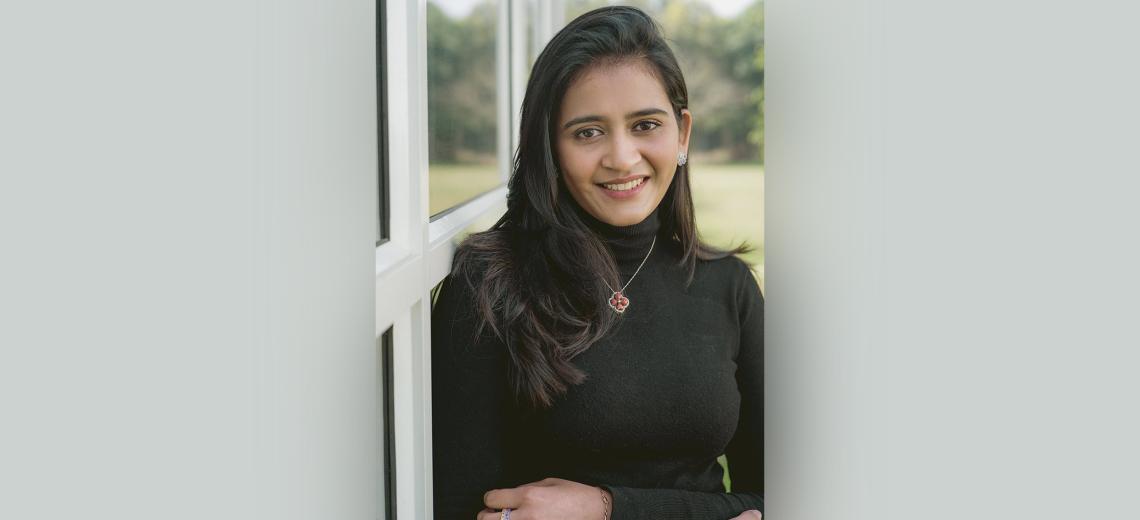 4 minute read
Surbhi Shekhar is Marketing Manager of Manohar Lal Jewellers (MLJ). She has completed a Bachelor of Business Administration, Master of Marketing Management and a Master of Project Management at The Australian National University (ANU) Research School of Management.
In 2017, Surbhi was awarded the Indian excellence scholarship from the ANU College of Business and Economics (CBE), and was part of the winning team of the first Special Industry Project. After graduating from ANU, she started working with Indian jewellery brand Manohar Lal Jewellers. While working as marketing head, she gained insight into brand-building, and made it her professional focus. 
As a side project, she started her own company in Singapore called YAJ International, a handmade jewellery manufacturer, specialising in men's and unisex designs. Last month, Surbhi was included in the list of India's top 100 under 40 in FOX Story India.
In her interview, Surbhi shares her beginnings in jewellery sales, how the industry inspired her to start her own business, and the challenges of showcasing unique craftsmanship.
Q. Can you tell us about your career path, what led you to starting your own jewellery business, and how your CBE degree helped you?
As a business and marketing student, I always knew I wanted to start something on my own and successfully run a business. I believe that initial knowledge, research, and experiments are very important to start anything new. While working with MLJ, I gained knowledge about the jewellery business. I was also working part-time in Australia with Pandora as a sales executive. From there, I learned the grassroots of sales. Brands, in India particularly, with almost 90 years of legacy, tend to get stuck in a loop of time. With the addition of modern ideas and perspectives, such established traditional brands can be the top international brands.

I was always passionate about research and analysis, and CBE helped me to sharpen those skills. The papers and assignments we wrote were always practical, and provided me with insight into how different problems can be solved. I particularly enjoyed doing real-life case studies and in-class activities. They were mind-churning and made us think outside of the box. It all helped me to come up with innovative ideas and solutions.
Q. Can you share what YAJ International do and how it started?
YAJ International is a business-to-business silver-jewellery manufacturing business that only makes handmade goods with the purpose of promoting the skills and craftsmanship of Indonesia. It started with a small business in Bali and Singapore. I went there to explore the opportunities in gold jewellery for my job, but it turned out to be a blessing in disguise. I met up with people in Indonesia who were creating unimaginable jewellery in silver without using any machines, but by hand-tools. The demand for such products is massive in countries like the USA and the UK. However, these people did not have the platform or the resources to take their skills internationally. As an entrepreneur, I saw an opportunity in this challenge, and came up with a sustainable business model to help artisans in Indonesia to fill this market gap.
Q. Why did you choose to study at CBE and what were the highlights of your CBE experience?
When I opted for a business degree at ANU, I knew that my classmates, my faculty and experience would mould my personality and make me ready for my professional life. I had the chance to meet amazing faculty, like Dr Andrew Bradly, who was my mentor in my internship, and Associate Professor Alex Tietge, my tutor in various courses, who always kept assignments and classes interesting. CBE provided me with a holistic combination of theory and practice. I made some amazing friends and met people from various cultures. It made me more aware and adaptable to my surroundings.
Q. Do you have any advice for students or alumni who are interested in starting their own business?
Keep an eye out for opportunities and don't be afraid to stretch your capabilities. Don't take failure or setbacks seriously. Learn from them, revise, and grow. COVID-19 was a setback for me, as my business is mainly dependent on travelling and visiting the manufacturing unit and the clients. However, online exhibitions allowed me to stay at home and develop business via Zoom calls.

Don't think it's the end if you face a road block – something better will come up soon. Stay positive and just keep at it.
Q. What advice would you give international students on making themselves ready for the job market while studying at ANU?
Trust yourself, keep adding to your skills and take some time to explore. Don't shy away from any kind of work. Each job will teach you something and will develop your skills. I was working as a casual salesperson at Pandora while studying. I was shy, but being a salesperson gave me the confidence to speak up and talk to various people, empowering me with sales and people skills. Job-hunting takes time but that doesn't mean it won't happen. This process is preparing you for a better future.
The ANU College of Business and Economics offers an extensive range of specialised programs. Click here for more details.