Image
5 minute read
The ANU College of Business and Economics (CBE) is delighted to introduce the CBE Canberra Alumni Network (CBE CAN) – a dynamic, new, alumni-led group aimed at connecting, supporting, and empowering Canberra-based current students and graduates of the College.

CBE CAN endeavours to offer its members the opportunity to share and learn from one another, as well as reconnect with the University and its various initiatives. It also looks to support members by providing professional-development and networking opportunities, and celebrating the achievements of other fellow alumni.

Led by an executive body, CBE CAN's vision is to develop and maintain an active and passionate community of CBE alumni in support of The Australian National University (ANU) and each other. A University Liaison, who connects members with key academics, alumni and students, supports the network, and helps foster opportunities for further engagement and professional development.
Meet the CBE CAN executive:
 
Manaswin Sridhar: Co-Chair
Master of Finance (2016)
Manaswin is an active member of the CBE community and while at ANU was a founding member of CBE's Student Managed Fund. Manaswin holds a senior role as Head of Operations, supporting the development of agriculture exports from Australia to the world. He brings a wealth of knowledge and career experience to CBE CAN and is passionate about supporting others and helping CBE students and alumni.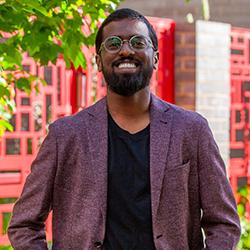 Harish Chakravarthy: Head of Communications
Master of Business Information Systems (2018)
Harish is an active CBE alumni who is passionate about student advocacy and welfare. While studying at ANU, he was actively involved in community building through his efforts as the PARSA International Students' Officer, Brian Kenyon Student Space Manager, and the Indian Students' Association President, and was awarded CBE Intern of Year in 2017. Harish is now working with a tech giant in the cloud engineering space. He is enthusiastic about mentoring prospective students and providing career guidance. Hit him up for a coffee or a session of right-arm mediums at the nearest park. 
Dominic Nadvillaveetil: Co-Chair
Master of Business Information Systems (2016)
During his time at ANU, Dominic was actively involved in student welfare advocacy and community building activities through the ANU Postgraduate and Research Students' Association (PARSA) and the Council of International Students Australia (CISA). Since graduating, Dominic has been working within the Defence and Security space as a Project Manager – specialising in the delivery of capability acquisition projects to both government and civilian customers. He loves spending time organising community events and is an avid enthusiast of outdoor activities.
Medha Malik: Head of Events
Master of Business (2014)
Medha is currently working as the Assistant Director of Strategic Recruitment at the Australian Electoral Commission. In addition to her CBE Master of Business, she holds a Master of Human Resource Management from Griffith University, Brisbane. Medha's professional expertise is in human resource and talent management across both the private and public sectors. Medha moved to Canberra as an international student in 2014 and fell in love with the city. On weekends, she enjoys venturing out for hikes and exploring the city.
Register here to join us on Wednesday 30 March, as we launch CBE CAN with a special panel discussion event during ANU Alumni Week. 
CBE alumni interested in joining the network can click here to express their interest.