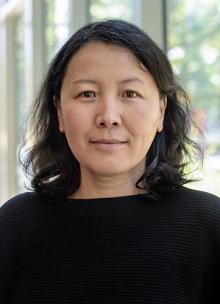 Position
Associate Lecturer in Economics
Email
ariun-erdene.bayarjargal@anu.edu.au
Phone number
+61 2 612 58109
Office
Room 1127, Copland Bld (24)
Research areas
Applied economics; Development economics; Inequality; Policy analysis.
Biography
Ariun-Erdene Bayarjargal is an Associate Lecturer in Economics. She researches in areas including applied economics, inequality, and policy analysis. Much of Ariun-Erdene's work centres on Mongolia, where she has modelled the financial resilience of the household sector to macroeconomic shocks, and explored the implications of economic growth, poverty, and inequality. Ariun-Erdene has also investigated the impact of parental leave on earnings in Australia, and the determinants of innovation in Australian firms. Ariun-Erdene has consulted for the Asian Development Bank and is a visiting researcher of the Economic Research Institute of Mongolia.
Bayarjargal, A and H. Ear-Dupuy, 2020, 'Living standards, labour market, and social development' in M. Helble, H. Hill, and D.Magee (ed), Mongolia Economic Prospects: Resource-rich and Landlocked between Two Giants, Asian Development Bank, pp 237-277.
Bayarjargal, A. and G. Doojav, 2017, Stress testing the household sector in Mongolia, Asia-Pacific Development Journal, vol. 24, no.2, 23-52.
Bayarjargal, A. and G. Doojav, 2017, Implications of economic growth, poverty and inequality in Mongolia over the period of 2008-2012, The Northeast Asian Economic Review, vol. 5, no.2, 15-29
Bayarjargal. A., A. Batchuluun and B. Dalkhjav, 2012, Coordination of fiscal and monetary policy in Mongolia in anticipation of large-scale capital inflow, ERI Discussion Paper Series, vol. 1, 2-15.
2017, Associate Fellow of the Higher Education Academy (AFHEA)
2015, Civil Society Scholar Award of the Open Society Foundations
RSE Winter mathematics for economics, Lecturer
Microeconomics 1, Head Tutor
Microeconomics 2, Head Tutor